As an Amazon Associate, I earn from qualifying purchases
Is it Safe to Use a Scratched Rice Cooker? Are you worried about those scratches in your rice cooker? Anxiety over damage to our cooking appliances is valid, considering we use them daily to prepare food. This blog post aims to bring clarity about when to consider scratches in your rice cooker as a problem, their impact on our health and taste, how to prevent and manage these scratches effectively, and when it might be time for a replacement. Come, join us in this informative journey and let's ensure the safety and longevity of our different kitchen helpers, focusing today on our trusty rice cooker.
Is Using a Scrapped Rice Cooker Safe for Health?
Often, we witness our rice cooker wearing out over the years, battling accidental drops, mishandling, and residues from several dishes. While it's inevitable, knowing how these wear and tears, notably scratches, specifically impact its performance and whether they prove harmful to us is crucial.
Scratched Cooker, Big Deal?
Unless the protective layer underneath has been compromised, or continuous shedding of the non-stick layer occurs, you should still deem your scratched rice cooker as safe. Scratches on any cooking appliance are quite common, owing to its frequent usage.
However, consistent use of a substantially scratched cooker may compel the non-stick layer to persistently shred into your food. These minute particles pose an insignificant health risk but are likely to tamper with your meal's taste.
Recognizing Serious Scratch-Induced Damage
It's vital to discern official wear and tear from serious damage. Significant peeling or chipping away of the non-stick surface, especially revealing the appliance's metallic core, is problematic. This burgeoning condition increases the risk of metal leaching, causing not just taste issues but also potential health concerns.
Prevention is Better Than Cure
The onus is truly on maintaining your rice cooker right from the onset. Adhering to proper usage guidelines, refusing to use abrasive cleaning tools, and stirring with gentle utensils – paying heed to these can prevent unnecessary scratching.
Management Recommendations for Scratched Rice Cookers
Vivid signs of scraping or peeling should not be ignored. One can continue to use their cooker for steaming, but it might be safer to avoid cooking rice directly, especially if the inner coating is heavily damaged.
The Cooker Replacement Call
Deciding on replacing a rice cooker is often based on personal considerations and specificity. Frequent issues, longevity, changes in food's taste, and above all, a potential health threat require another prospective cooker hunt.
What to Look for in a New Rice Cooker: Is it Safe to Use a Scratched Rice Cooker
Search for a rice cooker with a durable non-stick coating, as this can resist scratching over time. It would also be best if you opted for cookers that are easy to sanitize and manage, ensuring its longevity and quality in the long term.
Alternatives to Non Stick Teflon Rice Cookers
There are various alternatives to conventional Teflon-coated rice cookers if you're particularly concerned about scratches. Cookers with ceramic or stainless steel interiors are gaining popularity. Though these materials may not have the same non-stick convenience that Teflon does, they're certainly more resilient and less prone to scratching and flaking.
Ceramic-coated cookers are non-toxic and easy to clean, but their durability may differ by brand. Stainless steel cookers, on the other hand, are rugged, lasting many years despite daily usage. Other possibilities include tiger or uncoated aluminum rice cookers.
How to Remove Scratches from Non-Stick Pan?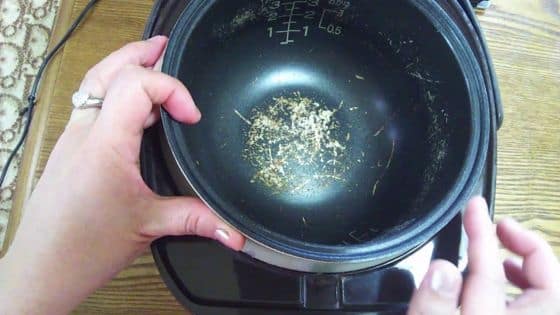 While it might be challenging to completely remove scratches from a non-stick pan, there are ways to mitigate their effects and extend the pan's lifespan. Cleaning the pan thoroughly, including the scratches, to avoid food particles getting stuck is the primary step. Using soft cleaning gadgets like a sponge or a soft brush will gently deal with scratches without worsening their state.
Applying a non-stick pan repair spray can restore some of the protective coatings. However, severe scratches that show signs of chipping might be beyond repair and indicate that the pan needs replacement.
A more natural way would involve baking soda. Mix equal parts of baking soda and water to form a paste, rub it gently over the scratch using a cloth, let it stay for about 15 minutes, then rinse and dry the pan before its next use. This routine rescue process can mildly eradicate some scratch lines or at least diminish their visibility and effect.
Maintaining Your Rice Cooker for the Long Run
Ensuring your rice cooker stands the test of time is far from arduous. Simply practicing mindful usage, being gentle while cleaning, and steering clear of sharp or hard objects can prolong its lifespan significantly. Regular sessions of cleaning and immediate corrective measures upon observing any sign of wear and tear assure your appliance's long run. Remember, prevention is the cornerstone; the sooner you take care of a scratch, the lesser the chances of escalating damage.
How to Choose Non Scratch Pans? 
Choosing non-scratch pans involves considering several factors. It's crucial to select pans with high-quality non-stick layers that can withstand the daily rigors of cooking. Efforts should also be made to avoid pans with a base material that reacts with particular food ingredients: an important factor when considering the durability of your pan.
Always review the manufacturer's care and cleaning guidelines, and check for a pan's compatibility with your cooking source. Thick-bottomed pans provide an even cooking surface preventing hotspots that could lead to scorching. Also, opt for good heat-resistant handles for safer handling. However, the shape and weight of the pan should be suitable for your cooking needs and should not be overlooked.
Optimal Way to Wash a Non-stick Rice Cooker
Prevention begins with caring for your rice cooker right from the start. After each use, make sure to fully cool the cooker before you attempt to wash it. The sudden temperature change can cause the pan's non-stick coating to warp, leading to further damage.
Always use mild detergent and warm water, coupled with the soft side of the cleaning sponge. Avoid using metallic scrubbers, harsh detergents, or bleach, as powerful agents readily strip off the non-stick layer.
While deep cleaning, if there's stubborn residue, fill the cooker halfway with water and let that soak.
When to Throw Away Rice Cooker?
One might think of retiring their rice cooker when observed issues are frequent and beyond repair. If the non-stick layer is extensively scratched or chipped revealing the metal underneath, or if the appliance starts to leach metallic flavor into food, it is a surefire sign of imminent replacement. A significant change in the food's taste profile, a dip in its overall efficiency, or any indication of potential health hazards due to extensive wear should prompt an unavoidable cooker replacement decision.
Remember to gauge your cooker's state, and balance the cost-effectiveness of repairing vs replacing. Also, consider whether the environment – and your health – could take a heavy hit from persisting in using an overused and damaged cooker.
Appreciating the Benefits of High-Quality Rice Cookers
Having a dependable rice cooker can make a significant difference both in the quality of your meals and the ease of your cooking process. Durable non-stick cookers often reduce the likelihood of rice sticking to the pan, promoting consistency in your meals and simplifying the cleaning process. Typically, a high-quality rice cooker will also provide you with efficient operation for many years.
Don't underestimate the worth that a top-notch rice cooker can add to your kitchen. Keep this in mind when it comes to both making care decisions about an aging cooker and picking out a new appliance with a long-term mindset.
Safety Tips for Rice Cookers
Always be mindful of operating any electrical appliance, including a rice cooker, safely. Here are a few tips:
Always read and follow manufacturer instructions for use and care.
Do not leave a rice cooker unattended while cooking; excessive steam buildup can be dangerous.
Always use oven mitts, potholders, or kitchen tongs to handle the hot pot; don't touch it directly.
Keep the pot – especially the power cord – out of reach of children.
Do not use a damaged or malfunctioning rice cooker; get it repaired or replaced.
Place your rice cooker on a flat, heat-resistant, and stable surface, preferably away from any heat-sensitive objects.
Avoid overfilling the cooker as it can cause spilling or overflow, which might lead to malfunctions or even fires.
Keep the cooker's cord length to a minimum to avoid accidents. Do not allow the cord to dangle from the kitchen counter or table, especially around children and pets.
Ensure the cooker switches to warm mode or turns off entirely once the cooking process is completed to avoid unnecessary energy usage and makeup.
Regularly inspect your cooker for any signs of damage or wear.
Cleaning Tips for Rice Cooker
Keeping your rice cooker clean greatly helps extend its life and ensures that it operates at its best. Below are some helpful cleaning tips:
Always unplug and cool your rice cooker after every usage before you attempt any cleaning to minimize the risk of electrical shock or burning yourself.
Regularly clean your rice cooker as soon as it cools, as this will prevent the buildup of residue.
Use warm water and mild detergent with non-abrasive cloths or sponges to avoid causing scratches and other damage to the non-stick coating.
For hard-to-remove food debris, it's safe to soak the cooking pan in warm soapy water.
If the lid is removable, it should be cleaned after every use. However, if the lid is attached, wipe it with a damp cloth and then a dry one to ensure thorough drying and cleanliness, preventing any possible rusting or mold development.
When it comes to the heat plate, gentle cleaning tactics should be prioritized. Heavy scraping or strong detergents might scratch and cause lasting damage.
For the body of the cooker, wiping it with a damp cloth should suffice, ensuring no water enters any vent or plug hole. If your cooker comes with a steam vent, make sure to clean this part regularly to avoid any blockage.
Conclusion: Is it Safe to Use a Scratched Rice Cooker?
Caring for a rice cooker is a simple process but demands constant attention to maximize its functionality and prolong its life span. From mindful handling to regular cleaning with mild, non-abrasive substances, and making decisions about repair or replacement when necessary, you can effectively ensure that your appliance serves its purpose healthily and efficiently. Remember, an appreciated and well-taken care of rice cooker is the first step towards preparing perfect volumes of tasty, fluffy rice every time you want to make your meals just a little more savory.
Is it Safe to Use a Scratched Rice Cooker FAQs:
Can I still use my rice cooker if the non-stick layer is mildly scratched?
Mild scratches on the surface are usually okay if the underlying metal isn't exposed. However, if food starts sticking or the damage grows over time, consider replacing your cooker.
Does a scratched non-stick layer cause harm to health?
The issue arises when the non-stick material starts to flake and mix into your food. Depending on the materials used, ingesting such flaked coating can pose health risks.
What materials are typically used in non-stick coatings?
Common materials used for non-stick coatings include polytetrafluoroethylene (PTFE) and ceramic. PTFE, more commonly known by its brand name "Teflon," is a popular coating for kitchenware, including rice cookers. Technically safe for use, it bears risks if the cooker is overheated or the coating starts to degrade. Ceramic coatings are considered safer, but they're not quite as durable as PTFE.
Is there an alternative to a rice cooker with a non-stick coating?
Certainly, there are various types of rice cookers available without non-stick coatings such as stainless-steel cookers or rice cookers lined with clay or ceramic.