As an Amazon Associate, I earn from qualifying purchases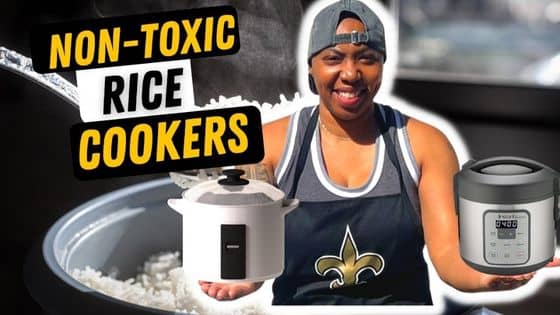 In today's blog, we break down the truth behind Teflon free rice cooker and why they might be the perfect addition to your health-conscious kitchen. We examine the benefits, how to pick the right one for you, and why making this transition could be one of the best decisions for your domestic culinary journey! So the next time you switch on that rice cooker, you will know that not only are you preparing a meal but making a wise health-conscious choice. Stay with us as we dive deeper into the world of Teflon-free rice cookers.
What Is Teflon and Why the Controversy?
Teflon, professionally known as polytetrafluoroethylene (PTFE), is a famous non-stick material widely incorporated in many kitchen utensils, most notably in rice cookers, due to its convenience. But recently it has garnered attention and controversy due to potential health risks linked with its overuse.
When Teflon is overheated, it's believed to release harmful substances that can cause flu-like symptoms, known as Polymer Fume Fever. Continuous exposure to these fumes has sparked worries that it could potentially lead to serious conditions such as cancer or liver damage. This is the reason why many health-conscious customers are now turning towards Teflon-free alternatives.
Recognizing these concerns, multiple companies have initiated the development and provision of alternative non-stick cookware, with rice cookers being a popular choice. The result is a greater variety of safe-to-use utensils, allowing consumers to enjoy their meals without compromising their health.
Benefits of a Teflon Free Rice Cooker
Health-Friendly: Teflon-free rice cookers offer a more health-friendly option. With no PTFE or PFOA materials, they eliminate any potential toxic fumes associated with overheating Teflon-based surfaces.
Durability: Most Teflon-free rice cookers use alternative materials like stainless steel or ceramic, both highly regarded for their durability.
Low Maintenance: Another strength lies in the cleanup. Teflon, though non-stick, is prone to scratches and can eventually peel off. Teflon-free materials can withstand metal utensils and harsh scrubbing and handle the dishwasher confidently.
Sustainability Commitment: Having a Teflon-free rice cooker also signifies a commitment to environmental friendliness since the production of Teflon includes perfluorocarbons, a greenhouse gas that contributes significantly to global warming.
Enhanced Flavors: Teflon-free cookware tends to be more flavor-retentive as they don't interfere with the taste and nutritional content of the food, unlike cookware with Teflon which can at times, slightly change the flavor.
How to Choose the Perfect Teflon Free Rice Cooker
Decide on a Material
Research your options, which typically lie between ceramic and stainless steel. Both are good but have their pros and cons; the key is to decide based on your specific requirements.
Check the Sizing
Rice cookers come in different sizes. Depending on the number of people you'll regularly cook for, you can decide the right size for it.
Evaluate the Features
Early rice cookers just boiled and cooked rice, but today's models offer much more. Though additional features may benefit you, ensure they're practically useful.
Confirm the Brand's Reputation
Reliable names naturally rise to the top. Be sure to read reviews and verify the brand's standing before settling on a product.
5 Best Teflon Free Rice Cookers
Below is our list of the top 5 Teflon-free rice cookers that you can consider for your kitchen:
Zojirushi NHS-06 3-Cup (Uncooked) Rice Cooker: Zojirushi is well-known for its durability and utility. This stainless steel rice cooker is no different, providing quick, yet consistently superb rice cooking without any Teflon.
Oster 6-Cup Rice Cooker: Featuring a one-touch operation and automatic keep-warm function, this cooker offers convenience along with Teflon-free safety.
Buffalo Classic Rice Cooker: This cooker offers a 100% stainless-steel inner pot, ensuring the complete absence of Teflon and unmatched food quality.
Aroma Housewares Select Stainless Rice Cooker: This Teflon-free cooker, with its easy single-button operation, is known for its functionality and easy maintenance.
Cuckoo CR-0631F 6-cup Multifunctional Micom Rice Cooker: This Teflon-free rice cooker from Cuckoo offers both utility and versatility- not just for rice, but for various dishes due to the cooker's multifunctional features.
Remember, the knowledge stack is what leads to the plate of health and wellness. Make the smart switch today. Embrace the healthier route and promote a non-toxic kitchen environment for you and your family.
Zojirushi NHS-06 3-Cup (Uncooked) Rice Cooker:
This compact and straightforward rice cooker comes with a stainless-steel inner pot that promotes healthy cooking. Despite its simplicity, the Zojirushi NHS-06 doesn't compromise functionality and its non-Teflon construction ensures safe cooking at all times.
Pros and Cons:
Pros
Durability: Built with stainless steel, this rice cooker promises a long lifespan and resistance to scratches or breakdowns.
Easy To Use: With its one-switch operation, it's easily usable and great for individuals who are new to cooking with rice cookers.
Non-Stick: Even without Teflon, the stainless steel interior ensures that rice or other foods will not stick or burn.
Ideal Size: With a 3-cup cooking capacity, it's perfect for small families or solo cooks.
Cons
Lacks features: This rice cooker is quite basic and lacks some of the advanced features seen in more modern cookers, such as a timer or different cooking modes.
Oster 6-Cup Rice Cooker:
This easy-to-operate rice cooker comes packed with a cool-touch exterior, a glass lid for easy viewing, and an automatic keep-warm function. While the Teflon-free cooking bowl warrants health-friendly cooking, it's the all-around professionalism that takes it a notch higher.
Pros and Cons:
Pros
Fuss-free operation: Its one-touch operation simplifies cooking— perfect for novices or those who prefer simplicity.
Automated warm function: The automatic warm function keeps your food at the right temperature, ensuring your meals are always ready to eat.
Cool-touch handles: The handles remain cool even during cooking, offering safe usage.
Cons
Single function: Though tactical with rice cooking, this model doesn't offer any additional cooking features or modes. This limits the variety of meals you can prepare using this device.
Lid quality: Some users reported that the glass lid is rather thin and may be prone to cracking or breaking with improper usage.
Buffalo Classic Rice Cooker:
The Buffalo Classic rises amongst its peers with its 100% stainless steel construction. This suggests chemical-free and healthy food, and it's further reinforced by a multitude of other equally stirring qualities.
Pros and Cons:
Pros
Sturdy construction: Made from stainless steel, the cooker is durable and resistant.
Fast Cooking The cooker is capable of rapidly cooking a proportioned quantity of rice maintaining consistency.
Easy-to-handle makes it easy to handle, clean, and maintain.
Cons
Price Its: The Buffalo Classic Rice cooker is comparatively more expensive than other similar models in the market.
Instruction manual erg: Some customers have found the instruction manual a bit complex to understand.
Aroma Housewares Select Stainless Rice Cooker:
The Aroma Housewares Select is a dependable kitchen companion, offering both utility and safety with its Teflon-free design. It simplifies your cooking process with a one-button operation design while maintaining the quality and integrity of your food.
Pros and Cons:
Pros
Straightforward use: The one-button operation of the Aroma Housewares cooker allows you to cook multiple types of food effortlessly.
Large capacity: Able to prepare up to 6 cups of cooked rice, it's suitable for large households or delivering meals to guests.
Automatic keep-warm: Post-cooking, the cooker switches automatically to the 'keep warm' mode, preserving your foods' freshness.
Cons
Lining quality: Some users reported that the lining gets scratched easily during cleaning.
One-button operation: While it makes the cooker easy to use, it also limits the range of cooking features, making it less versatile than multi-functional rice cookers.
Cuckoo CR-0631F 6-cup Multifunctional Micom Rice Cooker:
This rice cooker manifests the perfect blend of user-friendly features and safety with its Teflon-free construction. The multifunctional features let you make a variety of dishes, making this rice cooker an excellent addition to your kitchen arsenal.
Pros and Cons:
Pros
Versatility: Its multifunction gives you the flexibility to cook different types of dishes, including rice, stew, soup, or porridge.
Large cook capacity: There's plenty of cooking space with a 6-cup capacity, making it suitable for larger families or gatherings.
Auto steam clean: Cuckoo's rice cooker incorporates an auto steam cleaning function for easy and efficient cleaning.
Cons
Learning curve: Some users reported a learning curve to fully understand and use the multifunctional settings.
Pricey: The Cuckoo rice cooker with all its high-tech features comes with a relatively high price tag compared to other models.
Conclusion
When shopping for a rice cooker, it's essential to consider the safety aspect, ease of use, price, and functionality. Each of the rice cookers listed delivers on their promise of a Teflon-free, healthier cooking experience. However, specific models offer more advanced features than others, such as the Cuckoo model with its versatile cooking modes and auto-steam clean function. On the simpler end, the Zojirushi and Oster models are perfect for users who prefer efficiency and ease of use over extra features. Ultimately, choose a rice cooker that caters to your specific needs, keeping in mind the size, price, and the device's potential functions.
Teflon Free Rice Cooker FAQs:
What makes a good Teflon-free rice cooker?*
A good Teflon-free rice cooker should provide quality performance, and be sturdy, durable, and easy to use and clean. It should have a strong heating element and also a good capacity.
Is a Teflon-free rice cooker healthy?
Yes. Teflon-free rice cookers make for healthy appliances as they eliminate the risk of harmful chemicals associated with Teflon, like PFOA and PFOS.
Can I cook other things apart from rice in these rice cookers?
ome rice cookers are multifunctional and can be used to cook things like soup, stew, oatmeal, etc. While some simpler models might be specifically designed for cooking rice.
Is stainless steel a good alternative to Teflon?
Yes, stainless steel is a great alternative as it doesn't emit harmful chemicals, is highly durable, and is easy to clean.
How to clean a Teflon-free rice cooker?
Usually, the pot can be removed from the cooker and washed in warm soapy water. For stubborn residue or to clean the cooker base, always refer to your product manual to prevent damage.