As an Amazon Associate, I earn from qualifying purchases
In today's technologically advanced kitchen, cooktop types go far beyond a simple gas or electric stove, with Radiant vs Induction Cooktops offering innovative and efficient alternatives. With the basics of cooking relatively unchanged, the driving force behind the heat has certainly taken a giant leap forward. In this discussion, we shall dive into the depths of these two modern cooking technologies – radiant and induction cooktops – comprehending their function, evaluating their performance, surveying their culinary possibilities, and scrutinizing their maintenance and durability as well as cost value. In doing so, we aim to bring forth a comprehensive understanding to aid you in making informed choices
Understanding Cooking Technology
The Heating Showdown: Radiant vs. Induction Cooktops – Sizzling Facts!
Oh, the wonders of the kitchen! No two top chefs will argue that the key to creating an exquisite gastronomic masterpiece lies in the perfect blend of passion, quality ingredients, and manipulation of heat. That said, the culinary world is split into two main factions when it comes to this crucial element: Radiant cooktop lovers and Induction cooktop loyalists. It's a battle of the ages! But how do these two types of cooktops differ in their operation? It's time to get to the heart of the matter!
Radiant Cooktops: Tried, Tested, and Edible
The beloved radiant cooktop follows the traditional route, all while adding a contemporary twist. Operating much like the classic electric cookers, these cooktops use electricity to heat a coil or heating element situated beneath a smooth ceramic surface. When cooking, the heat radiates from the element and transmits directly to the pans or pots, making them sizzle in anticipation of the flavors they are about to embrace.
The heat distribution on these cooktops is commendably even and steady, allowing for that series of succulent and beautifully caramelized onions or that perfect tender roast. An additional perk is that they are compatible with all types of cookware, the sturdy cast iron skillet or the traditional stainless-steel pot included – No fuss, no muss!
Induction Cooktops: A Scientific Feast of Ingenuity
The induction cooktop, the revolutionary maverick of the kitchen, functions on a completely different principle. It corresponds with the rhythm of the 21st-century lifestyle, where efficiency is everything. Induction cooktops use magnetic fields to generate heat. When a pot or pan made from ferrous metals, think iron or stainless steel, is placed on the cooktop, it completes a magnetic field. This produces small electricity currents, which create heat within the pot or pan itself, not on the surface of the stove.
This immediate, direct heating of the cookware results in speedy cooking times – because let's face it, the faster that divine lasagna or sumptuous stir-fry reaches the table, the better! However, it must be noted that a downside of induction cooktops is their bias towards only magnetic cookware.
At the end of the day, both radiant cooling and induction stations bring their unique flair to the kitchen. Radiant cooktops appeal to those with a preference for the traditional, accommodating approach, while induction cooktops call out to the innovators who appreciate technology's magic touch in cooking.
Halting the heated war between believers of Radiant and Induction for a moment; it's clear that both have their unique quirks and features that make them favorites for different reasons. They just have different methods for the same mission – to assist in conjuring delectable dishes that bring people together. Because after all, the love for food is what truly unites us. And who was ever one to turn away a good meal, no matter the cooktop it was cooked on? Not the culinary enthusiasts, that's for sure!
Performance Review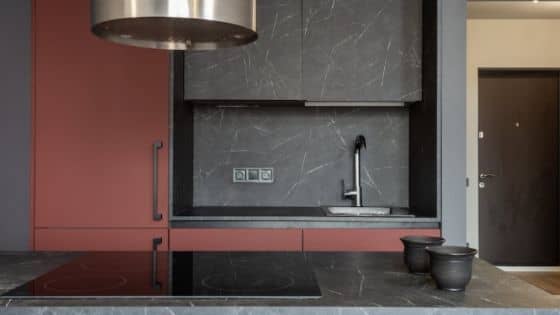 Radiant and Induction Cooktops: The Crème de la Crème of Cooking Results?
When it comes to the culinary world, one may think of ingredients, techniques, and dishes. However, often overlooked is the humble cooktop. But when we dive deeper into the cooking process, the battle between radiant and induction cooktops and their effects on the results of our culinary creations comes to light.
Radiant cooktops, with their conventional heating methods, have been the heart of many kitchens for years. There's comfort in its familiarity, allowing a soothing kinship between the cook and their creations. The gentle warmth spreads evenly across pots and pans, offering consistent cooking results. Their diverse compatibility with a range of cookware is a bonus. From feeling the crunch of a well-seared steak to relishing the tenderness of slow-cooked dishes, traditionalist food enthusiasts understand the benefits radiant cooktops bring to the table.
Induction cooktops, on the other hand, symbolize modern-day cooking. Using electromagnetic waves, they heat your cookware directly, while the cooktop remains cool. Amping up the temperature in an instant, induction cooking results in faster meal preparation. Energy efficiency is also one of its hallmarks, adding a green credential to your kitchen. With exact heat control, induction cooktops offer precision cooking – best for perfectionist chefs seeking that exact simmer for a risotto or a rapid boil for the perfect al dente pasta.
Both radiant and induction cooktops offer distinct cooking experiences. While the radiant heat encourages patience and an organic bond with your food, the induction cooktop boosts efficiency with its rapid and precise cooking controls.
Yet, the ultimate determinant of cooking results lies within the cooks themselves. Whether it's a radiant or induction cooktop, the creativity, passion, and skill of the individual maneuvering around the kitchen differentiate an average meal from a spectacular feast. Both types of cooktops can effectively satisfy an adventurous palate and serve warm, homey dishes to your loved ones.
While cooktops play an instrumental role in your cooking journey, remember that they are merely tools. The magic starts when food enthusiasts embrace the joy of cooking and share the fruits of their labor. As they say, the secret ingredient is always love! Regardless of what's under your pots, it's about making memorable moments around the dining table, stirring up stories, sharing laughter, and serving scrumptious food. Here's to the next culinary adventure worth savoring, bon appétit!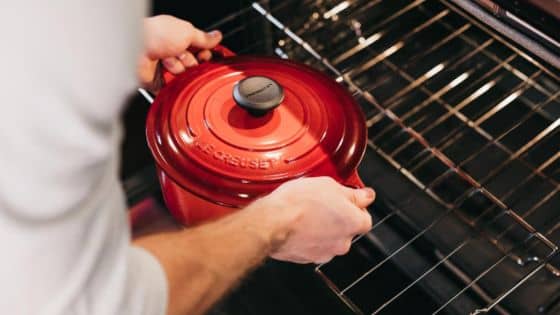 Culinary Possibilities
As the culinary world continues to evolve, the styles of cooking and types of dishes that can be perfectly executed on radiant and induction cooktops are also diversifying. With the leap into the modern cooking era, both cookware have their unique specialties that cater to different culinary styles and dishes.
The radiant cooktop, with its steady, consistent heat source, is ideal for simmering, slow cooking, and braising. Its consistency in maintaining accurate temperatures over a prolonged duration of time gives dishes like stews, soups, and sauces the ideal slow simmer they deserve. The radiant cooktops handle the slow and steady cooking that coaxes out complex flavors and tenderizes tough cuts of meat with finesse, turning them into melt-in-the-mouth moments of pure gastronomical delight.
For those who savor sweet indulgences and are keen baking aficionados, a radiant cooktop is truly a boon because of its compatibility with all kinds of cookware, including glass and ceramic dishes. Whether it is a decadent chocolate lava cake or a traditional apple pie, the radiant cooktop handles them all effortlessly, the consistency of the heat easing the path to perfect bakes.
Switching gears to induction cooktops, the precision, and speed that mark this style of cooking opens up a completely different avenue of culinary delights. Fast heating, and conversely, fast cooling, make induction cooktops perfect for dishes that require flash-frying, quick boiling, or immediate temperature switches.
Take a walk through Asian cuisine, for example, where the trademark stir-fry, a cornerstone of dishes across China, Indonesia, Thailand, and the like, comes to mind. The speed and uniform distribution of heat make the quick sear and crisp texture, that too without losing any of the raw freshness, possible and a culinary reality. The ability to control and change heat instantly also makes induction cooktops ideal for the delicate process of tempering chocolate or making complex sauces that need finesse and precise temperature controls.
To delve into the realm of Mediterranean cuisine, think of the classic Spanish paella that requires the performative art of both slow cooking and searing. Enter, induction cooktops: with the ability to reach high temperatures rapidly and also drop to a slow simmer quickly. Consequently, it is capable of creating the dreamy crisp crust and fluffy rice texture that defines the perfect paella.
At the end of the day, knowing how to navigate both radiant and induction cooktops can unlock a world of culinary potential. They each have their own sets of specialties, catering to different styles of cooking and dishes. The choice between radiant and induction might not be about what's absolutely better but about what type of culinary journey a cook wants to embark on. Indeed, these cooktops are mere instruments, it is the hands that wield them, and the hearts that pour love into every dish that truly create edible masterpieces. So here's to radiant and induction cooktops – fueling culinary adventures one dish at a time.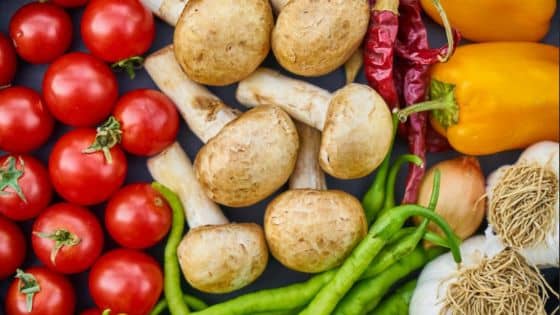 Maintenance and Durability
Let's take this a step further and consider the long haul. When it comes to durability and ease of maintenance in the realm of radiant versus induction cooktops, which takes the throne?
Radiant cooktops, with their smooth and sleek design, make cleaning a breeze. A simple wipe-down after every use can suffice to keep your radiant cooktop. Glowing red coils beneath the ceramic surface serve as indicators to stand until it has cooled off. This does well in extending your cooktop's lifespan as it minimizes occasions of shock temperature changes. Plus, radiant cooktops tend to be less susceptible to scratches and temperature-induced cracks.
On the downside, radiant cooktop's heat dispersion can eventually cause discoloration, creating darkened circles on the glass top. To prevent further charring or permanent marks, immediate attention and clean-up are highly advised when spills or overboils occur.
Now, induction cooktops, they're quite the charmers with their high-tech features. Cleaning such a surface is virtually effortless. The prerequisite, though, is understanding how these wonders work. Since it utilizes an electromagnetic field to generate heat, the cooking zone remains relatively cool. This means there's minimal chance for spills to bake onto the cooktop, making it easier to clean. A soft cloth with a mild cleanser quickly returns it to its gleaming state after cooking.
It's worth noting, though, that induction cooktops require particular care: avoid sliding pans across the cooktop to prevent scratching, utilize only induction-compatible cookware for optimum performance, and manage any spillage or overboil promptly due to potential seepage into the induction coils.
Durability
As for durability, both induction and radiant cooktops last roughly 13-15 years with proper use and maintenance. One difference is apparent, though – the failure rate of parts. For radiant cooktops, the most common cause of outages is the coil or burner, which is easily replaceable. However, induction cooktops carry a bit more complexity, and issues with the circuit board can be costly to address.
In the end, both cooktops – with their unique benefits – require a good understanding of their operation and a sprinkle of care to ensure longevity. But remember, a cooktop is not a master chef make. It's the delight in the crafting of each dish, the fun in experimenting with flavors, and the joy in sharing these culinary creations that truly make the kitchen a gastronomic haven.
Radiant Electric Stove Top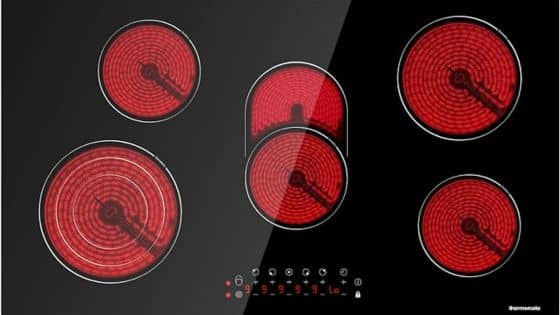 The Radiant Electric Stove Top features a sleek design with five burners, providing versatility for cooking various dishes simultaneously. With nine different heating levels, you get precise control over your temperature settings. The stove also includes a timer to ensure perfectly cooked meals. A kid safety lock is in place to prevent unintentional burner activation, securing a safer environment within your kitchen. The easy-to-use sensor touch control panel enhances the user experience by providing quick adjustments to the settings. This electric stove is 240V and proficient at radiating strong, consistently even heat, making it perfect for both quick high-heat searing and slow simmering dishes.
pros and cons
Pros:
Multifunctional with 5 burners.
9 heating levels allow for precise temperature control.
Built-in safety features like a kid lock to ensure safety in the kitchen.
Sensor touch control panel improves usability.
Robust at a maximum output of 240V.
Suitable for different cooking needs, from high-heat searing to slow-simmering dishes.
Cons:
Requires specific cookware. Not all pots and pans may be compatible due to the heat radiation method.
Consumes relatively more energy compared to induction cooktops.
Slower heating time can be inconvenient for those who prefer fast cooking. –
Cleaning can be trickier due to potential spillage getting baked onto the surface.
Ceramic cooktop might be prone to scratching or cracking under rough usage.
Remember, choosing the right cooktop depends on your particular needs and preferences. Consider all aspects, including cost, energy efficiency, cooking style, and kitchen aesthetics. Happy cooking!
Nuwave Double Induction Cooktop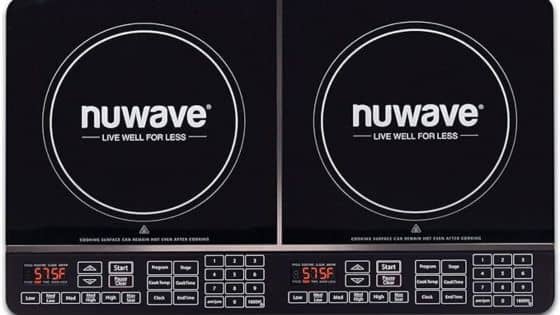 The Nuwave Double Induction Cooktop is a powerful, versatile cooking station that sports two large 8″ heating coils, independent controls, and a range of temperature settings from 100°F to 575°F in 5°F increments. Its shatter-proof ceramic glass surfaces, combined with the 1800W maximum power output, make it a sturdy, reliable choice for all of your cooking needs. This double induction system allows simultaneous cooking on both burners providing convenience and efficiency in your kitchen.
Pros and Cons
Pros:
Double burners allow for simultaneous cooking.
Powerful with a maximum 1800 watts output.
A wide range of temperature settings is available for precision cooking.
Independent temperature controls for each burner.
Shatter-proof ceramic glass surface ensures durability and safety.
Efficient, as induction technology transfers almost all the heat directly to cookware.
Cons:
Requires cookware made specifically for induction, limiting flexibility.
High initial cost compared to other cooktops.
Can be sensitive to power fluctuations.
The high power output could potentially cause issues with household electrical circuits, especially in old houses.
Limited to dishes that fit within the dimensions of the two 8″ coils.
Choosing the perfect cooktop may require careful consideration of your personal cooking needs and budget.
Which is best for you?
Choosing between the Radiant Electric Stove Top and the Nuwave Double Induction Cooktop should ultimately depend on your specific cooking habits, budget, and kitchen setup.
If you value multifunction and versatility, lean towards slow, even-heat cooking, and do not mind slightly higher energy consumption, the Radiant Electric Stove Top could be an excellent fit. Meanwhile, if you favor high power, precision, speed of heating, and energy efficiency, and do not mind the potential limitations in compatible cookware, the Nuwave Double Induction Cooktop may be more suitable.
In the end, the best cooktop for you is the one that meets your individual needs and kitchen dynamics.
Happy selection, and may your culinary journey be filled with deliciousness and convenience!
Cost and Value: Radiant vs Induction Cooktop
But what about the costs? This is where the debate between radiant and induction cooktops tends to heat up. Induction cooktops are typically more expensive to install than their radiant counterparts. This cost is due to the advanced technology and precision they provide, often appealing to the ardent foodie or the professional chef. There's a certain allure to the speed and precise control of temperature promised by induction cooktops.
Radiant cooktops offer a more budget-friendly entry into the realm of upgraded cooking appliances. They commonly have a lower upfront cost, making them an attractive option for those first stepping out into the world of culinary adventures or for those with budget constraints.
However, one should consider not only the initial cost but also the long-term energy consumption. Induction cooktops are lauded for their energy efficiency – they heat up faster and lose less heat in the cooking process compared to radiant cooktops. Over time, this can lead to significant energy savings, turning the seemingly higher investment into an economical choice.
Maintenance
Maintenance is another often overlooked factor when considering the cost. Radiant cooktops, with their smooth, flat surfaces, are relatively easy to clean and maintain. On the other hand, induction cooktops, while sleek, may require a bit more attention to maintain. Although they don't heat the surface directly, which limits food burning onto the cooktop, they can be more susceptible to scratches and may need special cleaning products to keep them in top condition.
Now let's talk about accessories – specifically, cookware. The magnetic nature of induction cooktops requires pots and pans to have magnetic bases. This means that some of your favorite cookware pieces might not be compatible with an induction cooktop. So, if a cookware revamp is not in your plans or budget, a radiant cooker could offer an economic advantage.
What it really boils down to is your cooking style. Both radiant and induction cooktops can offer an elevated cooking experience, with the potential to raise the flavor profile of your dishes to the next level. The induction cooktop, with its rapid heat and precise temperature control, might appeal more to passionate home chefs and culinary experimenters. But don't underestimate the radiant cooktop – its consistent and even heat is a trusted companion in many kitchens.
Ultimately, the kitchen is equal parts science and soul. It's about how you mesh with your tools. The debate between radiant and induction cooktops is not one-size-fits-all. Whether you're making a quick dinner for one or preparing a feast for friends, your choice of cooktop should align with not only your budget but also your culinary aspirations and the memories you yearn to create around the dining table. The right cooktop should not only meet your cooking needs but also add to the harmony, the dance, that is the culinary arts.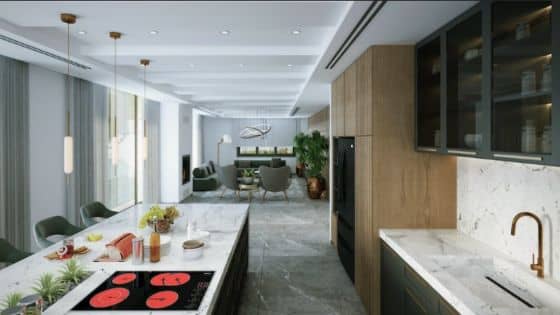 Note:
By dissecting each facet of these cooktops, from the principle of their operation to the tangible impact on your wallet, we've sought to highlight the strengths and weaknesses inherent to each. With radiant cooktops providing a budget-friendly, familiar cooking experience, and induction cooktops offering unparalleled efficiency and control, your choice ultimately hinges on your personal cooking needs, preferences, and budget. Understanding the workings and implications of both options empowers you to make a decision that best aligns with your expectations, helping you create a kitchen space that is not just functional, but also delights in its form.
Conclusion
Choosing between a radiant and induction cooktop isn't a quick choice, for cooktops aren't merely cooking appliances, but partners in your culinary journey. Whether the radiant top's versatility or the induction top's speed and efficiency tickle your fancy, be sure to select a cooktop that matches your gastronomic needs and passion.
Stay tuned for more insights and tips about the exciting world of cooking! Remember, the right choices in kitchen tools could uplift your love and expertise for cooking. Here's to more delicious meals and delightful moments in your kitchen!
Radiant vs Induction Cooktop FAQs:
Can all cookware be used on an induction cooktop?
No, induction cooktops require cookware made of ferrous materials such as iron or stainless steel.
Are radiant cooktops energy efficient?
While radiant cooktops are less energy efficient than induction cooktops, they still efficiently utilize up to 70% of the generated heat.
Do radiant cooktops heat up quickly?
The heat-up time of radiant cooktops is generally slower than their induction counterparts; however, they provide steady, even heat ideal for slow cooking.
What is the lifespan of these cooktops?
Typically, both radiant and induction cooktops are expected to last for approximately 10 to 15 years under normal usage conditions, with some variations depending on the brand and model.
Which one is safer, radiant or induction cooktops?
Induction cooktops are generally considered safer. They heat the pot directly, leaving the surrounding surface cool to the touch. Additionally, they cool down rapidly after use, minimizing the risk of accidental burns.