As an Amazon Associate, I earn from qualifying purchases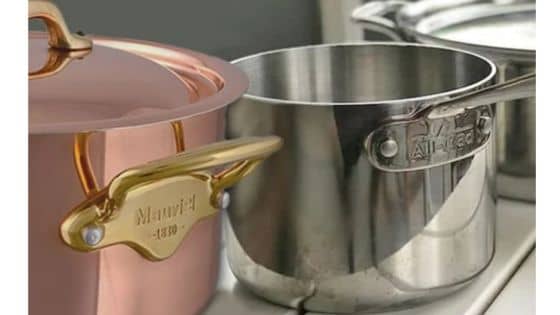 Mauviel Vs All Clad, While deciding which cooking pots and pans we should purchase, the wealth of brands and types available can be daunting. Two such respected brands in the industry are Mauviel and All Clad. These companies have championed the production of top-tier cookware for many years. However, there's a riddle consumers seem to be battling with—and that's the choice between Mauviel and All Clad pots and pans.
Introducing All-Clad
All-Clad, founded in 1967 in Canonsburg, Pennsylvania, inhabits a well-deserved place among the respected titan cookware manufacturing companies. The high-quality stainless steel pots and pans built through the innovative sandwiching technology are indeed their pride. Arthur Jones, All-Clad's founder, had initially envisioned the brand being used primarily for professional chefs, but its versatile range defied this limitation, finding a spot not just in restaurant kitchens but also in the homes of dedicated food enthusiasts.
Introducing Mauviel
Mauviel, a cherished French company founded back in 1830, is globally acclaimed not just for cooking pots and pans but also for providing baking utensils of exceptional quality. These enormous 198 years of dedicated craftsmanship are reflected in each Mauviel product, offering not just functionality but also aesthetics that best match a gourmet kitchen. The company's roots, linked to the famous Copper City of Villedieu-les-Poêles, translate into its passion for manufacturing alchemistic copper cookware which has been winning the hearts of professional chefs and home cooks alike.
All-Clad vs Mauviel: Comparison Chart
| | | |
| --- | --- | --- |
| | | |
| | | |
| | Heats evenly and retains temperature. | Heats and cools faster than All-Clad, providing more control. |
| | Fully-clad stainless steel | Copper and stainless steel |
| | | Stainless steel, tin, or copper (baking only) |
| | | |
| | Polished or brushed stainless steel | |
| | | |
| | | Pans with copper exterior are not |
| | | |
| | | |
| | Even heating, incredible durable, classic look | Elegant copper exterior, precise heat control |
| | Doesn't heat or cool as quickly, heavy | More expensive than All-Clad |
Comparing Mauviel VS All-Clad Cookware
When it comes to choosing between All Clad and Mauviel, there are several considerations to ponder. From the material these pots and pans are made of, to their design and overall performance, each factor can potentially play a significant role in shaping your final decision. In the forthcoming sections, we will weigh the pros and cons of each brand, delve into their primary collection, examine their performance in various cooking scenarios, and assess their durability, convenience and price points. It's worth noting: Maybe your decision will rely not only on the practicalities but also on the culinary prestige each brand holds within your kitchen space. Let's plunge in.
Advantages of All-Clad Stainless Steel Cookware
All-Clad's stainless steel cookware line is highly acclaimed for its even heat distribution, courtesy of its thin layer of heat-responsive aluminum enclosed by robust and non-reactive stainless steel. This medley of metals results in quick heating and maintains each pot and pan's rigid structure, preventing warping over time. Thanks to its sturdy handles and lids, along with the gleaming finish, All-Clad's stainless steel range remarkably merges practicality with elegance. Nielsen, who found that this line imparts an unparalleled performance when cooking both complex gourmet dishes and everyday home meals, backs up this high praise.
Advantages of Mauviel Copper Cookware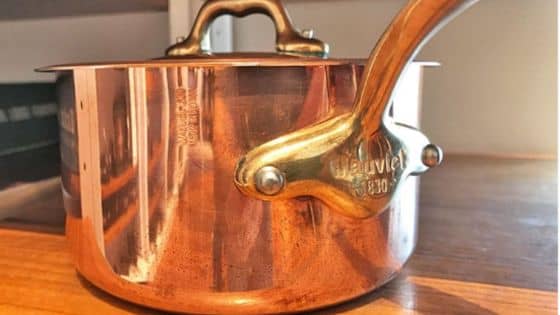 Believers in the magic of cooking with copper must give Mauviel a try. Renowned for its superior heat responsiveness, Mauviel's copper cookware offers precision temperature control—an essential aspect for executing tricky gourmet dishes. Lined with easy-to-clean stainless steel, Mauviel copper pans save chefs and home cooks from the usual chores inherent with maintaining copper pots and also prevent acidic food reactions. Besides performance, Mauviel scores high in the aesthetic department. These heavy-gauge, handcrafted, copper utensils, featuring cast-iron handles and a unique hammered finish, narrate a story of age-old culinary traditions. Not to mention, people widely recognize Mauviel for their perseverance in bridging the gap between professional-grade cookware and passionate home cooks, contributing to their widespread popularity.
Costs: Mauviel Vs All Clad
One cannot neglect the factor of cost while doing cookware shopping. Generally perceived as high-priced, both Mauviel and All-Clad promise to deliver quality worth the expenditure. However, Mauviel cookware tends to be more expensive due to the intricacy and craftsmanship that copper cookware requires, along with the imported labor and materials. The buyer needs to remember that investing in these top-tier brands yields longer durability, better performance, and an appealing vintage charm that can elevate any kitchen decor.
Design: Mauviel Vs All Clad
When dissecting the design aspects, Mauviel and All-Clad diverge on their aesthetic sensibilities. While All-Clad opts for sleek and modern appearances that blend use and style elegantly, Mauviel embraces tradition and historic references featuring old-world charm exquisite in copper. It's pertinent to note that despite stark design distinctions, both brands pay minute attention to ergonomics—delivering sturdy handles for good grips, high sides to prevent spills, and flawless balance to ease stirring and lifting. Ultimately, the design appeal could boil down to personal preference and the essence you wish to create within your kitchen.
Overview
To sum up, both the brands hold their unique place in the cookware industry and the decision between Mauviel and All-Clad mostly zeroes in on a consumer's individual cooking style, aesthetic taste, budget and personal favorites. The intense heat control and unparalleled beauty of Mauviel's copper range definitely make heads turn while the long-lasting durability, professional outlook and efficient performance of All-Clad's stainless steel line win heaps of accolades. Nevertheless, both encapsulate the soul and finesse of cooking with an unquestionable level of craftsmanship, thus, making their presence an asset for every home or commercial kitchen. Embellish your cooking journey with Mauviel and All-Clad and experience something remarkably authentic and deeply satisfying in each preparation.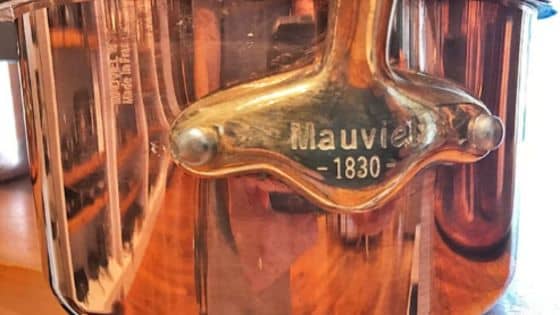 At the end of the day, the cookware you choose should entwine seamlessly with your style of cooking, match your kitchen's aesthetics, and cater to your need for durability, functionality, and comfort. Opt for Mauviel if you want a touch of classical elegance paired with excellent heat control. If you demand industrial-strength married to sleek modern design, then All-Clad should be your pick. Considering all aspects honestly will help you make a well-informed choice—that, eventually, results not just in convenient cooking experiences, but also delectably memorable meals every time you don your chef's hat. Amidst Flambés, sautés, roasts, or pancakes, it's your conviction in the cookware you use that can turn any mundane kitchen activity into a delightful culinary ritual.
What Others Are Saying: Mauviel Vs All Clad
In this section, we will review some trending opinions and user feedback regarding Mauviel and All-Clad cookware. This information can provide first-hand insights into how these cookware lines perform in real kitchens just like yours.
Mauviel Copper Cookware Reviews
Users eulogize about the even heat distribution Mauviel copper pots and pans offer. These pots warm quickly, respond to heat changes rapidly, and cool down swiftly when removed from heat. These qualities are invaluable for precision cooking.
Besides, many consumers value the antique charm and the inviting aesthetic it imparts to their kitchen. Some revel in narrating how these stunning copperware quickly became conversation starters during social gatherings.
All-Clad Stainless Steel Cookware Reviews
The admiration for All-Clad's robust cooking range is widespread among its users. Their cooking gear, appreciated tremendously for resilience and heat maintenance, stands the test of time in any kitchen. Many customers give the bonus tag to All-Clad for its suitability on all cooktops, including induction.
Industrial design enthusiasts rave about the stainless steel's professional look and feel. Word of its ability to retain a striking appearance even after years of rigorous use has garnered massive props from the home-cook community.
Hence, the reaction from the users underpins the validity of both All-Clad's and Mauviel's incredible reputations and defines them as deserving investments for a long-term culinary journey rich in culinary experiences.
In summary, purchasing cookware is an exercise that requires consideration of factors like cost, aesthetics, usage, and of course, personal preference. While prestigious brands such as Mauviel and All-Clad vary in offerings—the former with its heritage roots and the latter with its modern sleekness—it is crucial to remember both excel at the quality of products and craftsmanship.
Based on actual user feedback, you can expect Mauviel to deliver the ideal heat synchronization essential for precision cooking. Its vintage charm could weave magic into your kitchen decor, hinting at the prevailing allure of antiquity. On the other hand, All-Clad signifies resilience paired with impressive heat maintenance, extending longevity in any kitchen.
Bottom Line: Should You Buy All-Clad or Mauviel?
Choosing between All-Clad and Mauviel for your kitchen is no less than choosing between TIMELESS ELEGANCE and MODERN UTILITY. Both brands have unique strengths. Mauviel surpasses in elevating kitchen aesthetics with its vintage look while also promising top-quality heat conduction. All-Clad stands out with its durable construction, practical features and compatibility with all types of cooktops, complemented by its classy yet modern looks.
Therefore, base your decision on your style of cooking, personal aesthetic, and need for durability—without forgetting the key role budget plays in this decision. Whoever stated that the journey is more vital than the destination had possibly foreseen the intriguing journey of selecting these unbeatable cookware brands.
Mauviel Vs All Clad FAQs:
How does Mauviel and All-Clad cookware compare on heat conduction?
Mauviel's copper collection is recognized for exceptional heat conduction, allowing precise control in your culinary preparations. However, All-Clad's stainless range also enjoys good marks for heat distribution and retention.
Which cookware has a more durable build?
While Mauviel products are built to last for an extended period, All-Clad cookware receives multiple compliments for demonstrating durability even in heavy-duty cooking scenarios.
Is all cookware from both brands compatible with induction cooktops?
While all of All-Clad's cookware range works perfectly on induction cooktops, some of Mauviel's collections may not be suitable. Always check the product specifications before purchasing.
Which brand offers a more convenient grip and handle design?
Most users find All-Clad's handle design more ergonomic than Mauviel's. However, the preference may vary, and a hands-on trial is recommended.
Are Mauviel and All-Clad easy to clean after cooking?
Both brands offer easy-to-clean features. While All-Clad cookware is dishwasher safe, Mauviel offers line-specific dishwasher-safe products.