As an Amazon Associate, I earn from qualifying purchases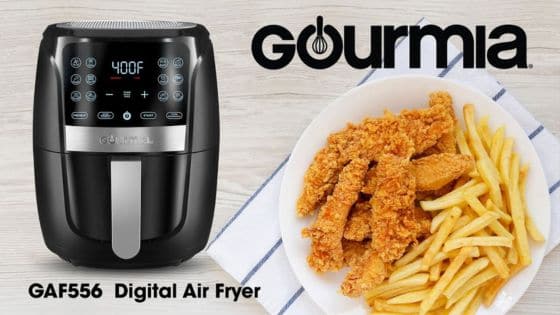 How to Use Gourmia Air Fryer: Every Gourmia Air Fryer model comes equipped with several pre-set functions for popular dishes like fries, poultry, or fish. These presets adjust temperature and cooking times automatically for a foolproof cooking operation. However, every model also has manual controls for those who prefer tailoring their cooking to personal tastes.
Air fryers have stormed in as one of the most beloved kitchen appliances today due to their ability to deliver crispy and delicious fried foods minus the unhealthy fats.
The Gourmia Air Fryer is one such model popular among health-conscious consumers. Let's delve into how to use this wonderful little frying device.
Understanding the Gourmia Air Fryer
The Gourmia Air Fryer features a digital touchscreen interface with easy-to-understand controls. The main control panel lets you select and adjust individual cooking parameters such as temperature, cooking duration, and the mode of cooking.
You just need to press the icon corresponding to your desired setting and adjust as required. Besides pre-set options, the device also allows you to experiment with your own cooking settings.
Regular convection ovens pass heat around to cook food. The Gourmia Air Fryer, however, utilizes advanced RadiVection 360° heat-distribution technology that circulates hot air rapidly to all directions. This results in uniform, efficient heating and overall quick, quality cooking.
Unpacking and Setting Up Gourmia Air Fryer
Once you have your Gourmia Air Fryer in hand, begin by thoroughly unpacking the product from the box. Ensure that all parts are present including the main unit, cooking racks, removable drip tray, and any other accessories based on the model purchased. If any piece is missing, contact the manufacturer's customer service immediately for assistance.
Next, remove any packaging material or protective tape from the air fryer parts. Clean the components, especially the cooking basket and frying pan before starting use. It is normally recommended to wash these parts with warm soapy water.
Now, it's time to place your Gourmia Air Fryer in the perfect location. Stylish and compact, it fits conveniently in any kitchen space. But remember, place it on a stable, level, and heat-resistant surface with sufficient ventilation.
Direct sunlight or close proximity to an oven or stove may affect the air fryer's structure and performance, so it is recommended to keep it out of such areas for good measure.
Once settled in a comfortable spot, it's time to connect the air fryer to a power source. The Gourmia Air Fryer comes with a lengthy polarized plug that should give you fair flexibility about where to situate it. Remember, never connect the plug with wet hands or if the plug or cord appears damaged.
Hit the power button to initialize the air fryer. You will be greeted by a lighted panel indicating the machine is on and ready for cooking operation.
Preparing Your Gourmia Air Fryer for Use
After setting up your Gourmia Air Fryer, you have to prepare it for use. Press the power button and the digital screen illuminates to indicate the air-fryer is activated. The interface discloses multiple functions to opt from.
First, ensure the air fryer is empty before turning it on. Once power-equipped, preheat the fryer for a few minutes to achieve a round cooking result. Each digital display indicates different cooking functions, tap the mode of preference.
If you want, you can adjust the time and temperature individually for your specific cooking need by pressing the "Temp/Time" option. Use the -/+ keys for adjustments as per your desired setting.
Preparing the food for frying is quite straightforward. Simply place the raw ingredients in the frying basket. Space it out as much as possible to enable even cooking. Once done, slide the basket back into the heated air fryer.
Now, select the desired settings or use a pre-set menu option. For manual methods, you have to press the start/stop button after setting up the mode, time, and temperature. Progress can be seen via the digital display.
Before shutting off the air fryer after cooking, let it cool for several minutes to ensure safety.
Taking care of your Gourmia Air Fryer is relatively easy. After use, invite some time for cooling then remove and clean the removable parts. Pay extra attention to the cooing basket, ensuring detaching and washing after each use to avoid stubborn stains or buildup. You can clean these parts using a dishwasher or using warm soapy water by hand; remember to dry them completely before reassembly for optimum performance.
In the event of encountering any problem, the Gourmia Air Fryer comes complete with a detailed user manual to guide you. Make sure to check the handbook for troubleshooting.
Note: How to Use Gourmia Air Fryer
Above all, be sure to experiment with your air fryer! It provides you with an ample amount of cooking versatility — whether it is anything from vegetables to meat, your Gourmia Air Fryer can handle it.
Try out different recipes, and tweak the temperature and timer settings to get used to its controls. With some patience and some trial and error, you will soon find practicing the use of an air fryer no different than learning other cooking techniques. And remember, the Gourmia Air Fryer isn't just for frying. It can roast, bake, and even dehydrate food as well.
Not only is the Gourmia Air Fryer a practical choice for those wanting to eat healthier, but it's also a time-saver for people leading busy lifestyles. And the best perk? The cleaning is as simple as the usage. Just make sure to never use metal utensils or abrasive cleaning tools to prevent damage to the non-stick coating!
Enjoy your crispy, juicy food with minimal use of oil and added peace of mind for making healthier choices. Happy cooking with your Gourmia Air Fryer!
Basic Functions and Controls of Gourmia Air Fryer
The Gourmia Air Fryer operates and maneuvers in a user-friendly manner. Understanding its basic function and control will grant you effortless usage.
The digital touchscreen interface features the power button which turns on the device and lights up to reflect it is ready for use.
There are pre-set programs; each symbol varies for a different cooking mode. For example, there's a unique program for frying, roasting, baking, grilling, and more. Tap on the icon of your choice as per the meal requirement.
1. Temperature Control:
The temperature control feature helps you to accurately set the cooking heat according to your recipe. The operation is quite simple with the convenient "+/-" option to raise or lower the temperature, allowing the cooking to happen at your preferred pace.
2. Time Setting:
The time setting allows you to set the duration for cooking. No need to continuously monitor or worry about the food getting overcooked, you just set the required time, and the air fryer takes care of the rest.
3. Pre-set Program:
The Pre-set Program option simplifies your cooking experience. With these pre-set options, you can select specific settings designed for particular types of food you are cooking. Whether it's baking a cake or frying french fries, select the appropriate pre-set and let the Gourmia Air Fryer handle the rest.
4. Power Button:
The power button serves as an on/off switch that lights up when the machine is ready to use. It also acts to stop the cooking process in case you feel the need to end it abruptly.
5. Start/Stop Button:
The start/stop button initiates the cooking process after you've selected your preferred settings. This also acts as a pause button in case you need to check on your food or add ingredients midway through the cooking process.
6. LED Display:
The LED display exhibits crucial operating information such as cooking time, temperature, and selected pre-set programs. It's illuminated for easy viewing and it uses user-friendly symbols and signs to ensure you're aware of the fryer's status at all times. Easy to read and understand, the LED display contributes significantly to the straightforward navigation of your Gourmia Air Fryer.
Let us remember that understanding how to use your machine comes with experimenting. Don't be afraid to get a feel for how your air fryer operates by practicing with different recipes and settings. As you get more comfortable with your Gourmia Air Fryer, you will be able to take its advantages to the fullest and explore different culinary possibilities.
Using the air fryer doesn't only limit in being able to cook your food with less oil, but it also provides that much-needed crunchiness and texture without sacrificing its natural flavor.
Add variety in your meals by grilling, roasting, baking, and even air-frying your favorite ingredients. The Gourmia Air Fryer will keep you motivated in the kitchen by minimizing the hassles of cooking and shortening the time needed to prepare your meals.
Tips for Cooking with Your Gourmia Air Fryer
1. Explore Different Recipes:
Don't limit yourself to just a few dishes. The Gourmia Air Fryer is designed for versatility in cooking. From regular fried dishes to exotic grilled dishes, your air fryer can cook a range of varied cuisines. Use pre-set functions intelligently to get the best possible taste and texture with minimal adjustments.
2. Don't Overcrowd:
Overcrowding the basket prevents proper hot air circulation, affecting the end result of your cooked food. Always give enough space and air circulation to your ingredients or food items for even and crispy frying.
3. Shake and Flip for Uniform Cooking:
Halfway through the cooking duration, pause and shake your food or flip it for even cooking and browning. You can use a pair of tongs or a spatula, but avoid any sharp or metal utensils that could damage the non-stick coating of the basket.
4. Preheating is Beneficial:
While the Gourmia Air Fryer doesn't require preheating, doing so will give a kick-start to the temperature and result in more precise cooking, especially for meat. However, don't neglect safety measures: preventing overfilling and staying close to the device is important when it's heating up.
5. Use Kitchen Timer:
Utilize your air fryer's kitchen timer to easily track your cooking process. This is especially useful if your recipe requires adjusting the air fryer settings a few times during the cooking process. Remember, perfectly timed cooking plays a crucial role in achieving the best taste and texture.
6. Add Water to the Drawer on High-Fat Foods:
When cooking high-fat-containing foods such as bacon, adding a little bit of water in the drawer beneath the cooking basket can help reduce smoke. Another method is using a slice of bread at the bottom of the basket to soak up excess grease.
6. Don't Overcook:
Don't let your meals lose their flavor and texture due to excessive cooking. Follow the recommended cooking times and watch your air fryer settings carefully. If unsure, it's better to set a shorter time and then extend as needed. The goal is to achieve beautiful golden-brown results without drying the food out.
7. Clean Regularly:
To maintain the efficiency of your Gourmia Air Fryer, it's crucial to clean it regularly. Wipe out the basket and pan after each use, using a soft sponge. For stubborn grease, use a mix of warm water and dish soap. Never use metallic scrubbing pads as they can scratch the non-stick surface. Always make certain that your air fryer is completely dry before storing to prevent excess moisture build up. Regular cleaning not only ensures efficient working of the fryer but also helps maintain the life and quality of the appliance for long-term use.
8. Safety Practices:
While using your Gourmia Air fryer, make sure to handle the device safely. Never move the appliance when it's in operation or hot. Avoid inserting any objects into the appliance to avoid electrical shocks or damage. Use the grab handle when removing the food basket, and make sure the unit is unplugged when not in use. The safety of the user should be a priority while dealing with any appliance.
Cleaning and Maintenance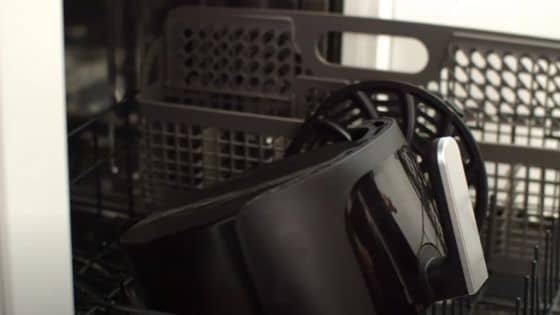 Regular cleaning and maintenance are key to extending the lifespan of your Gourmia Air Fryer and ensuring its optimum functionality.
1. Always Unplug:
Before cleaning your fryer, always ensure it's completely cool and unplugged to avoid electric shocks.
2. Non-Abrasive Cleaning:
Use non-abrasive cleaners and sponges to protect the non-stick surface of the cooking basket. Abrasive cleaners or rough cleaning tools can scratch and degrade the non-stick coating.
3. Cleaning the Cooking Chamber:
Gently clean the cooking chamber with a soft sponge or cloth. Avoid using harsh detergents or abrasive scrubbers. Air-dry or towel dry immediately after cleaning any residual moisture may cause rust and wear.
4. Cleaning the Outer and Inner Surface:
Clean the outer surface and inner parts using a damp cloth and mild detergent. Always ensure that the surfaces are completely dry before using the fryer again.
5. Cleaning the Heating Element:
Generally, the heating element needs less cleaning as it burns off food residues during operation. However, if excess grease or particles stick, turn off and unplug the fryer, let it cool, then carefully clean the element by brushing it with a clean, soft brush or cloth.
6. Regular Inspection:**
Apart from weekly cleaning, an occasional thorough inspection of your air fryer is important. Check on the power cord, plug, and safety components.
7. Storage:
When not in use, store your Gourmia Air Fryer in a clean, dry place with the power cord properly coiled and secured. Avoid storing under heavy objects or in excessively humid or hot areas as this may cause damage to the device.
8. Maintain Regular Overhaul:
Consider employing routine maintenance and servicing for your air fryer once or twice a year depending on excessive use to ensure smooth operation and increase its lifespan.
Remember, correct and continuous upkeep not only guarantees a clean appliance but also helps maintain the high performance of the air fryer, delivering appetizing and sanitary food every single time.
Troubleshooting Common Issues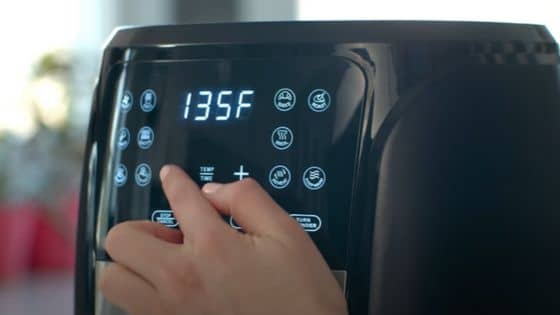 1. Unit Not Powering On:
If the Fryer does not power on, ensure that it's securely plugged into an electricity source. Always check on the cord as well for any breakage.
2. Air Fryer Doesn't Heat Up:
Too much food content in the drawer can prevent the Air Fryer from heating up. Avoid overloading and be sure to preheat the fryer before loading your food items.
3. Inconsistent or Improper Cooking:
This could be caused by overcrowded food items or blocked ventilation. Always keep ample space between the food items and ensure clean air vents before every use.
4. Excessive Smoke:
Excessive smoke can be cut down by adding water to the drawer when cooking high-fat-containing foods, as mentioned previously. Alternatively, use a slice of bread at the bottom of the cooking basket.
5. Unwanted Noise:
Some noise is normal due to the fast-moving hot air. If the noise is loud, one possible cause could be that the food in the basket is hitting the heater. If that happens, turn off the fryer, let it cool down then rearrange the food in the basket lightly.
6. Cracked or Damaged Basket:
If you notice any significant damage to your basket or the non-stick surface, immediately stop using the fryer to avoid potential safety hazards. Contact Gourmia customer service or an authorized repair center for replacement parts
7. Unpleasant Odor:
Sometimes, the new appliance may give out a peculiar odor. In this case, run the fryer at 400°F for about 20 minutes without any food. This usually helps to eliminate any residues that may cause the smell. Cleaning the air fryer thoroughly before and after every use can also prevent unwanted odors.
8. Food Not Crispy Enough:
This issue can be caused by not using enough oil or using excessive food in the fryer causing overcrowding. Also, certain types of food require a higher cooking temperature in order to crisp up. Make sure you read the cooking instructions specific to each food item.
9. Unit Shuts Off While Cooking:
Ensure that the Fryer isn't overloaded or obstructing the ventilation slots. Also, verify if the timer hasn't run out or the temperature hasn't exceeded the correct level. If this isn't the case, check the power supply connection.
10. Food Comes Out Soggy:
Letting the food sit for too long or not using the recommended cooking temperatures/ oil can lead to soggy foods. Avoid shaking the food while it's still cooking, as this might stop the cooking process resulting in sogginess.
11. Excessive Grease Leaking:
If oil or grease is excessively leaking out from the appliance, there might be an issue with your food items themselves – too fatty or frozen without thawing, or if you overfilled the oil reservoir. Alternatively, your air fryer cooking basket may be damaged or not sealed correctly. You may want to check these aspects and limit oil intake, thaw properly, or get a replacement if needed.
12. Handle Issues:
In some cases, the handle of the Air Fryer might become loose or broken due to rugged use or accidents. If you are facing a loose handle, make sure to tighten the screws properly. For a damaged handle, stop using the fryer until it is fixed to avoid any sudden accidents.
13. Discoloration or Deformation:
Unusual discoloration or deformation could be signs of overheating or using harsh chemical cleaners. Always follow the recommended heat setting and use suitable cleaning agents, so as to avoid damaging the quality and appearance of your Air fryer. If you already observe such issues, consider reaching out to Gourmia customer care to understand the possibility of a remedy or replacement.
14. Difficulty in Removing or Inserting the Food Basket:
Make sure that you're pushing or pulling the basket gently and tightly into the slot. Rough handling can result in injuries and damage to the fryer. You might also want to check if there's excess food or debris causing the issue and clean it appropriately.
15. Overheating of the Unit:
An overheating air fryer could signal a problem with its internal circuitry or improper use of the appliance. First, make sure not to exceed the recommended operation time or use the fryer in high heat conditions. If both of these are not the cause, discontinue its use and contact the manufacturer or professional help to avoid any safety risks. A replacement might be needed if the issue persistently reappears.
16. Difficulty Cleaning the Unit:
Sometimes, parts of the fryer might prove difficult to clean. Soak the parts in warm, soapy water before cleaning, or use a soft brush for hard-to-reach areas. Always avoid using abrasive cleaning materials that could damage the fryer. Following the manufacturer's cleaning instructions can ensure a simple and efficient cleaning process.
17. Unusual Vibrations:
While these appliances do give off minor vibrations due to their operation, if the shaking is too intense, there might be some possible malfunction. Ensure the casing is tightly secured. If it doesn't solve the issue, discontinue use and contact customer service for further guidance.
18. Error Messages Displayed:
Probable reasons could be malfunctions in the internal system of the air fryer, overheating or abrupt power surges. Refer to your user guide to understand the implications of the particular error messages. If it still persists, contact the manufacturer's customer service.
19. Conflicting Readings on the Air Fryer:
In case the temperature or timer readings on the Air fryer's display are inconsistent with your set values, it could be a technical glitch. Checking the appliance's manual can provide insights on how to reset or adjust these readings. If the issue persists, seek professional technical support.
20. Components Wearing Out:
With regular use, certain parts of the fryer like the handle, basket, or the non-stick surface may show signs of wear and tear. It's advisable to inspect your machine regularly and replace or repair faulty parts in a timely manner to avoid unsavory cooking experiences or safety issues.
21. Inability to Power On:
Check the electrical connections – plug, socket, and the cord. If all these are alright, then possible issues might be with the internal wiring or malfunctioning parts within the fryer. If this is the case, it's best to consult with a professional or the manufacturer's customer service department for advice or possible appliance replacement.
22. Limited Food Capacity:
While it's tempting to fit as much food as possible into the fryer to cut down cooking times, this can often lead to unevenly cooked or soggy food. It's recommended to follow the manufacturer's guide for food capacity for optimal results.
23. Food Burnt on the Outside but Raw Inside:
This problem is quite often due to a too-high temperature setting. Always adhere to the suggested cooking temperatures for different foods. If the problem persists even with the right temperature, reduce the size of food pieces for more even cooking.
24. Excessive Smoke:
While a little smoke is normal when cooking fatty foods in an air fryer, excessive smoke might indicate a problem. This usually happens when excessive oil or fat drippings accumulate at the bottom of the fryer or if the food is burnt. Make sure to remove any excess oil or food before you start using the fryer, and always monitor the cooking process closely.
25. Noisy Operations:
Some noise during the operation of air fryers is normal. However, if there is excessive noise, there might be an issue with the cooker's fan or some other parts. You should stop using the fryer immediately and contact the customer service of the manufacturer.
Conclusion
Through appropriate usage and timely troubleshooting, an Air fryer can seamlessly fit into your kitchen routine offering healthy and delicious meals. Despite the numerous issues that could occur, most problems have simple solutions that can extend the lifespan of your air fryer and ensure the enjoyment of its full features.
Always remember to read and understand your appliance's manual thoroughly before usage for best results. If an issue persists, never hesitate to reach out to professional help or the manufacturer's customer service department to avoid further complications.
In summary, while your Air fryer might experience occasional difficulties, taking the right preventive and corrective measures can substantially improve your cooking experience and help maintain the appliance in its best performance condition.
How to Use Gourmia Air Fryer FAQs:
1. How do I turn on my Gourmia Air Fryer?
To switch on your Gourmia Air Fryer, plug the cord into a grounded outlet, and press the power button on the control panel. You are now ready to set your preferred cooking parameters.
2. What do various error codes in my Gourmia Air Fryer mean?
Refer to the user manual for a thorough breakdown of error codes. If an unknown code appears, promptly consult with Gourmia's customer service.
3. How often should I clean my Gourmia Air Fryer?
Regular cleaning is essential. It's recommended to clean your air fryer after each use to prevent food residues and grease accumulation, which could impair the function and overall life of your appliance.
4. Can I place my Gourmia Air Fryer in the dishwasher?
To clean your Gourmia Air Fryer basket and tray, you can certainly use a dishwasher. However, keep in mind that the fryer's main body and electrical components should never be submerged in water.
5. Which type of oil should I use in my Gourmia Air Fryer?
Gourmia Air Fryers work best with oils that have higher smoke points, such as canola, sunflower, or extra virgin olive oil. Avoid oils with low smoke temperatures, like flaxseed oil.
6. Can I open the air fryer while it's heating my food?
Yes, Gourmia Air Fryers are built in a way that allows you to pause and check your food midway without interrupting the cooking process. Just make sure to be careful as the internal compartment will be hot.
7. What kind of food can I cook in my Gourmia Air Fryer?
Gourmia Air Fryers are versatile devices and can be used to cook a wide variety of foods. This includes but is not limited to poultry, meat, fish, vegetables, and even baked goods like bread or muffins. It can also reheat cooked food. However, some foods like delicate pastries or cheese, which might leak or make a mess, should be avoided.