As an Amazon Associate, I earn from qualifying purchases
Welcome to our in-depth comparison showdown series: Air Fryer vs Dehydrator.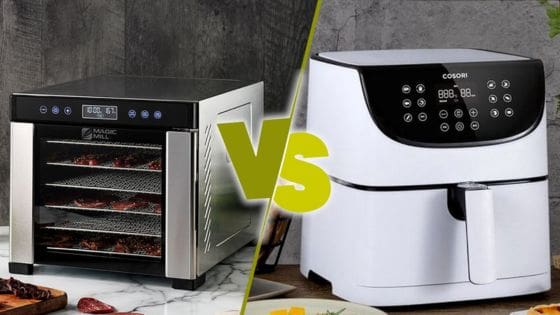 In this comprehensive blog, we'll delve into the specific features, system operations, and numerous benefits attached to these two commonly used kitchen gadgets. We aim to bring clear insights to assist your decision-making when choosing the perfect appliance to accommodate your culinary adventures.
We believe that, by the end of this informative guide, you will be equipped with the right information to make an informed decision that aligns beautifully with your cooking techniques, dietary preferences, and overall kitchen goals! So, let's explore these remarkable devices together, as we put the Air Fryer and Dehydrator to the test!
Air Fryer: The High-Speed Healthy Chef
An air fryer is essentially a compact countertop convection oven. It circulates hot air to quickly cook and crisp up your food.
*Fast Cooking Time*: Compared to a conventional oven, an air fryer can cook food much faster.
*Healthier Food*: The air fryer uses less oil compared to traditional frying methods, making it a healthier choice.
*Versatile*: From cooking frozen foods and baking cookies to grilling steaks, an air fryer can do it all.
Dehydrator: The Slow and Steady Winner
A food dehydrator uses a heat source and airflow to reduce the water content of foods. It's a fantastic way to preserve food and make your own fruit snacks, jerky, dried herbs and more.
*Preservation*: Dehydrators do an excellent job of preserving foods, retaining the essential nutrients, and extending their shelf life.
*Health Benefits*: Since dehydration doesn't require any added fats or sugars, you end up with a healthier snack.
*Financial Savings*: You can buy in bulk and dehydrate surplus food, saving money in the long run.
Air fryers use hot air for Cooking Food
In contrast to a dehydrator, an air fryer applies a stream of high-temperature air to cook food. This method results in a crunchy texture similar to deep frying, except without the excessive oil and associated health risks.
Range of Temperatures: Air fryers can reach higher temperatures, typically between 200 and 400 degrees Fahrenheit, suitable for a wide array of dishes.
Versatility in Meals: Air fryers don't just fry; they can also roast, reheat and even bake, providing flexibility in meal preparation.
Adjustable Timing and Temp: Most air fryer models come with adjustability options for time and temperature, allowing for precise cooking aversely,
a dehydrator operates at lower temperatures to heat and dry out the food contents, resulting in preserved and nutrient-rich snacks with extended shelf lives.
Dehydrators use warm air to dry food
A dehydrator circulates warm air around food to remove moisture gently and preserve its nutrients. This slow and constant form of food preservation results in produce retaining most of its minerals and vitamins while shelf life is significantly lengthened.
Lower Temperatures: Dehydrators function at low temperatures for extended periods, keeping the nutritious value of your foods intact.
Save the Season: They allow you to save seasonal fruit and vegetables for later use, which you can rehydrate for soups, stews, or snacks.
In-control Process: Dehydrators commonly come with adjustable temperature controls and a transparent door to monitor progress easily.
Economical Choice: Dehydrating food is cost-effective as it reduces food spoilage and waste. You can buy fresh produce in bulk during sales or seasonal periods and dehydrate it for lengthy storage.
Air fryers are more versatile because they can cook food and dry it
However, they are not designed to dehydrate food as effectively as a food dehydrator. If you often cook a variety of meals and value speed and convenience, an air fryer might be the best option for you.
Enjoy Crispy Treats: If you have a palate for fried and crispy food, an air fryer can replicate that taste with much less oil.
Quick Gratification: Air frying allows for quicker cooking periods than dehydrating, enabling you to enjoy your meals sooner.
Convenience Matters: Air fryers are beginner-friendly with intuitive controls and multiple preset options, making them easy to operate even for novice cooks.
Dehydrators are designed to preserve food without cooking it
They perform exceptionally well when it comes to drying food, creating homemade snacks, or preserving an abundant harvest for future uses.
Perfect Preservation: Dehydrators provide a perfect way to conserve food for outdoor activities like camping or hiking, where carrying fresh produce might not be practical.
Health is wealth: Foods dehydrated through a dehydrator are healthier as they don't need any additives or sugar to preserve.
Bulk-Prep Friendly: If you find that you often have an excessive amount of produce that ends up going to waste, a dehydrator can be invaluable to cut down on food waste and save money.
Deciding between an Air Fryer vs Dehydrator
Making an informed choice between an air fryer and a dehydrator depends notably on one's unique culinary habits and requirements.
For quick, versatile cooking that mirrors the crispness of deep-frying without the associated health drawbacks, consider opting for an air fryer. It's particularly fitting for those who relish in timely meal preparation and a diverse range of cooked, baked, or grilled dishes.
On the contrary, if your interest veers towards preservation and healthy snacking, a food dehydrator might be an excellent investment. It's an economical and efficient solution for those keen on capitalizing on seasonal produce sales or reducing food waste.
Air fryers cook with little or no oil
Air fryers provide cooking methods that utilize little to no oil, offering a healthier alternative to traditional deep frying. This significant cutback on oil usage ties in with the health-conscious trend, decreasing overall calories and fats in diets.
Requires Less Cleaning: Catering to a quicker cleanup post-meal, most air fryers come with removable, dishwasher-safe parts.
Crisp Texture: One of the highlights of air frying is achieving a close-enough crispy texture similar to fried food, adding an enjoyable crunch to every bite.
Smart Controls: The availability of smart features like digital touch screens and presets makes using an air fryer more convenient, minimizing guesswork in cooking times and temperatures.
Serves Variety: An air fryer serves beyond just frying. It can also roast, bake, grill, and even dehydrate, catering to a myriad of cooking preferences.
Dehydrator oil and space
Dehydrators, using heat to dry out food, extend its shelf-life without the need for additives or preservatives. It's an excellent tool for those who are health-conscious or want to save food from spoilage.
No Oil Needed: Dehydration requires no oil, making it a guilt-free method of preserving food while keeping it tasty and nutrient-rich.
Space Savers: Dehydrators allow you to stack a significant amount of food in minimal space. This way, you end up with a compact, dried version of your produce that is easier to store and carry around.
Preserve Nutritional Value: Unlike other methods of food preservation that may compromise the nutrient content, dehydrators retain most of the vitamins and minerals in your food.
Capitalize on Seasonal Produce: Dehydrators enable you to take advantage of seasonal sales and buy in bulk. You can then store these nutritious items for use throughout the year.
Save Money: By reducing food waste and extending the shelf-life of your produce, a food dehydrator can save money over time.
Air Fryer vs Dehydrator: Pros And Cons
Each device comes with its specific set of pros and cons, which need to be weighed according to individual food habits and needs.
Air Fryers
Pros
Versatile: From frying to baking, grilling, and dehydrating, air fryers offer various methods of cooking in one compact appliance.
Healthier Options: They require less or no oil, reducing calorie and fat content in food.
Faster Cooking Times: Meals can be prepared with speed and efficiency, meaning less time in the kitchen.
Less Mess: Thanks to removable, dishwasher-safe parts, cleaning up is a breeze after meal preparation.
Cons
Limited Capacity: Depending on the model, it may not be suitable for large families as it can cook only small quantities at a time.
May Not Achieve Authentic Taste: While it replicates the crisp texture, the taste is not precisely like deep-fried food.
High Energy Consumption: Air fryers can consume more energy as they require higher temperatures for cooking.
Dehydrators
Pros
Healthy Snacking: They provide a mechanism for healthy, preservative-free snacking by drying out fruits, vegetables, or meats.
Money-Saving: With the ability to buy and dry in batches, a dehydrator can save money in the long run.
Nutrient Retention: They preserve most of the nutrients in food while extending its shelf life.
No Additives Needed: Food is preserved naturally without the need for harmful preservatives or additives.
Bulk Preparation: They can handle large volumes of food which is perfect for those looking to take advantage of seasonal food sales.
Cons
Time-Consuming: Dehydration is a longer process, generally taking several hours to a whole day.
Limited Usage: Unlike air fryers, dehydrators are primarily for preserving food rather than cooking meals.
Require Larger Storage Space: Dehydrators often have a larger footprint and require more storage or counter space.
Dehydrator vs air fryer: size, usage, and costs
The size, usage, and cost of a dehydrator and air fryer can significantly affect your decision to purchase one over the other.
Dehydrator
The size of a dehydrator can vary greatly, with some models being quite large, requiring ample counter or storage space. Conversely, some of the smaller models can be quite compact and ideal for kitchen areas with limited space.
Dehydrators are utilized mainly for preserving food, turning fresh fruits, vegetables, and meats into nutritious, long-lasting snacks. The operation is passive, needing several hours to a full day, but it allows you to preserve large batches at once.
The cost of a dehydrator can vary, ranging from affordable basic models to more expensive units with advanced features.
Air Fryer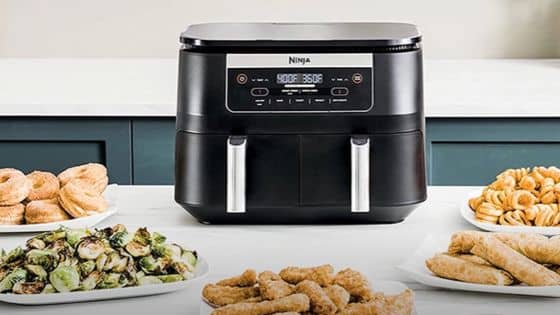 Air fryers tend to be smaller and more compact, making them suitable for kitchen areas with less space.
They provide a variety of cooking functionalities, making them ideal for users who favor a range of cooking methods. With an air fryer, you can whip up a meal in far less time as compared to traditional cooking or food dehydrating.
As for the cost, the price range can be broad. Basic models are reasonably affordable, but high-end units with advanced features and larger capacities can be quite pricey.
That said, the best choice essentially boils down to the user's cooking habits, needs, and preferences. For those who enjoy fried food without the extra oil and fat content, value versatility, and faster cooking times, an air fryer would be a suitable acquisition. On the flip side, for those looking for a way to preserve food naturally and healthily, whilst being able to take full advantage of seasonal produce, a dehydrator would be the more favorable choice.
When weighing out the pros and cons, and factoring in the usage, size, and cost of each option, the air fryer and dehydrator exhibit unique properties that cater to different culinary preferences and requirements.
What to use dehydrators for?
Dehydrators are ideal for drying out various types of food to extend its shelf life. They are commonly used for:
Drying Fruits & Vegetables: This is perhaps the most common use of dehydrators, where they can transform fresh fruits and vegetables into crispy, longer-lasting snacks. You can create apple chips, dried bananas, raisins, dried tomatoes, and more depending on the season.
Making Beef Jerky: Dehydrators can evenly dry out thin slices of meat, making it easy to create homemade, preservative-free jerky.
Making Fruit Leather: Pureed fruit can be dried flat to create a tasty and healthy equivalent to commercial fruit roll-ups.
Drying Herbs and Spices: You can easily dry and store seasonings from your own garden, retaining the flavor for cooking, teas, or as an ingredient for homemade spice mixes.
Preparing Dehydrated Meals for Camping: If you're backpacking or camping, dehydrated meals can prove convenient and lightweight. Just add water to rehydrate them.
What to use air fryers for?
Air fryers offer a healthier alternative to deep-frying and can also bake, roast, or grill. They are perfect for:
Cooking Frozen Food: From fries to chicken nuggets, cook your frozen foods quickly and evenly without the need for oil.
Roasting Vegetables: Toss your vegetables in a bit of oil, set your air fryer and you've got perfectly roasted veggies in a fraction of the usual time.
Baking Goods: Try baking biscuits, pizzas, or even pastries in an air fryer. You'll be amazed at the results.
Grilling: From succulent chicken breasts to smoky grilled peppers, the air fryer provides a healthier grilling method that locks in flavor without the added oil.
Making Desserts: Believe it or not, the air fryer is great for desserts too. From apple crumble to brownies, give your sweet cravings a healthy fix.
Final Thoughts: Air Fryer vs Dehydrator
In the battle of dehydrators vs air fryers, the winner isn't necessarily clear-cut. It all comes down to personal preference and kitchen needs. Both devices provide unique benefits and advantages. While air fryers could be appreciated by those needing quick, healthier cooking options, dehydrators are a dream for those looking to make long-lasting, healthy snacks with minimal additives.
A clear understanding of your cooking requirements, food habits, and kitchen space can guide your decision. Instead of looking at it as an either/or situation, consider if both could be a beneficial addition to your kitchen tools.
It's best to assess your personal culinary needs, frequency of cooking, storage space, budget constraints, and personal preferences to determine which appliance is more applicable to your lifestyle.
You might also want to consider the long-term value these appliances can provide. If you happen to love both fried foods and dehydrated treats, it might be worth considering investing in both a dehydrator and an air fryer to satisfy multiple culinary needs.
Ultimately, making an informed choice can maximize your kitchen capabilities and make your cooking experience more enjoyable and efficient. Having the right kitchen equipment can encourage better food choices, diversify your meal options, and potentially enhance your overall relationship with food.
Next Post: Copper Chef vs Gotham Steel: A Comprehensive Review
Air Fryer vs Dehydrator FAQs:
How does the taste differ between air-fried and dehydrated food?
Air frying uses heat circulation to fry food without oil, resulting in a taste and texture similar to traditional deep frying. On the other hand, dehydrated food retains its original taste but loses moisture, resulting in a different texture.
Is a dehydrator healthier than an air fryer?
Neither appliance is inherently healthier; it depends on how they are used. Dehydrators reduce water content, preserving the food without adding extra calories or unhealthy preservatives. Air fryers reduce the need for oil, potentially lowering the fat content of fried foods.
Can you dehydrate food in an air fryer?
Some air fryers come with a dehydrate setting, allowing you to use it as a dehydrator. But keep in mind, its primary function is frying, so the results may not be the same as with a dedicated dehydrator.
Do air fryers produce a crispy texture like deep fryers?
Yes, air fryers create a crispy texture similar to traditional deep frying but with less oil. This makes air frying a healthier alternative while still retaining much of the taste and texture loved in fried foods.
What is the energy consumption of an air fryer vs a dehydrator?
Air fryers generally consume more energy than dehydrators due to the high temperatures they operate at and the speed at which they cook. Dehydrators, on the other hand, run at lower temperatures for longer periods of time. However, exactly how much energy an appliance will use depends on its size, model, and how often it is used.