As an Amazon Associate, I earn from qualifying purchases
Granite vs Ceramic Cookware, Which One is the Best for You? In the quest for the perfect cookware, understanding the differences between the popular types is essential. Today, we explore the world of granite and ceramic cookware to help you decide which one is the best fit for your kitchen. Both options have their own set of advantages and drawbacks. Here, we compare them head-to-head so you can make an informed decision.
What is Granite Cookware?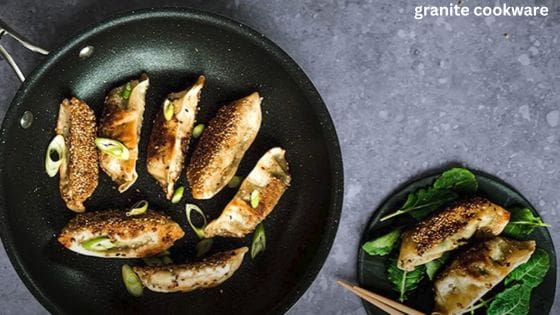 Granite cookware, or more accurately, granite-coated cookware, is usually made from aluminum or stainless steel and coated with a smooth layer of granite or a granite-like material. This creates a non-stick surface that provides durability and resistance to chipping, cracking, and scratching.
Pros of Granite Cookware
High durability: Granite-coated cookware is known for being long-lasting and resistant to scratches and chipping.
Lesser oil or fat usage: The non-stick properties enable you to cook with minimal oil, making it ideal for low-fat cooking.
Easy to clean: The non-stick coating makes it easy to wipe clean or wash, even without the use of harsh cleaning materials.
Cons of Granite Cookware
Possible concerns with coating: Some people are apprehensive about the safety of the granite material used in cookware. Always make sure to buy from reputed brands to ensure high-quality, food-safe coatings.
Unsuitability for high heat: Unlike traditional granite cookware, surfaces coated with granite or marble cannot withstand extremely high heat, which can result in warping.
What is Ceramic Cookware?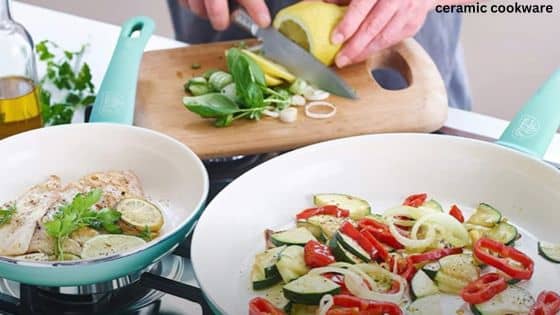 Ceramic cookware is made from clay and baked or fired at a high temperature. This creates a smooth, glass-like surface that also has natural non-stick properties. There are two types of ceramic cookware the ones that are 100% ceramic and ceramic-coated cookware usually made from various metals such as aluminum or stainless steel.
Pros of Ceramic Cookware
Non-reactive surface: Ceramic cookware is ideal for dishes that require a lot of acidic ingredients as it is non-reactive and preserves the taste.
Chemical-free: Ceramic cookware is PTFE and PFOA-free and is known to be a healthier alternative cookware.
Heat resistance: Can handle high temperatures without damage, and is suitable for ovens, stovetops, and broilers alike.
Cons of Ceramic Cookware
Questionable durability: Ceramic cookware can be brittle if dropped and can be susceptible to chipping, breaking, or cracking.
Cost: Good-quality ceramic cookware can be more expensive than other low-end materials.
Heavy and thick: Some people find the weight of ceramic cookware inconvenient for their cooking styles.
How to Choose the Right Cookware from Granite vs Ceramic Cookware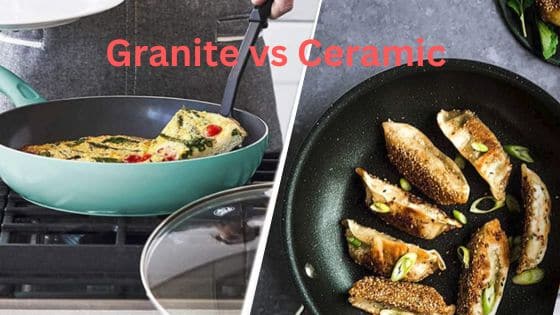 Consider your cooking style: Think about the types of dishes you usually prepare and whether you require cookware that can handle high heat, accommodate acidic ingredients, or maintain a consistent temperature.
Determine your budget: Set a budget that you are comfortable with and determine whether that reflects a good-quality granite or ceramic cookware set. Both options offer various price points to cater to different budgets.
Evaluate durability and ease of handling: If you're looking for a long-lasting cookware set that can take wear and tear, choosing granite-coated cookware could be great. If the weight of the cookware is your primary concern, ceramic might be a better choice as it is often lighter than granite-coated variations.
Research reputable brands: Do some research on top-reviewed brands by reading customer reviews and expert opinions. Companies with excellent reputations tend to produce high-quality, food-safe cookware that will last longer and remain reliable during use.
Think about environmental and health factors: If you prioritize eco-friendliness and safety aspects, consider choosing ceramic cookware as it is typically free of PTFE and PFOA, providing a healthier alternative.
Test before committing: Whenever possible, test out small pieces of cookware before investing in a full set. This way, you can see if the material truly works for you and get a feel for its handling and performance in the kitchen.
Which One Is the Best for You?

After carefully considering these factors, you should have a clearer understanding of whether granite or ceramic cookware is the best fit for your kitchen requirements. Both materials offer unique benefits and differences, so weigh the pros and cons as per your personal preferences and cooking styles. Over time, having the appropriate cookware in your kitchen will create a more efficient and enjoyable cooking experience, helping you produce delicious meals while sustaining the cookware's quality for years to come. Don't hesitate to explore and try out these options to find the perfect match for your culinary adventures. Happy cooking!
Conclusion
Ultimately, the choice between granite vs ceramic cookware comes down to personal preference, cooking style, and material suitability. Based on reviewed pros and cons, both cookware types are effective when it comes to non-stick abilities but differ in durability and other features. If durability and ease of cleaning are your priorities, granite-coated cookware might be your best bet. If you're interested in being eco-friendly or health-conscious, ceramic cookware can be a better choice. Remember, buying cookware based on your specific requirements and preferences will serve you well in producing fantastic meals for years to come.