As an Amazon Associate, I earn from qualifying purchases
All Clad vs 360 Cookware, Which One Is the Better Investment? When it comes to kitchen essentials, cookware is at the top of the list. High-quality and durable cookware sets not only add functionality to your kitchen but also improve the overall cooking experience. Two popular options that stand out in the market are All Clad and 360 Cookware.
In this blog post, we will take a closer look at both brands all clad vs 360 cookware to help you decide which is the better investment for your kitchen.
All Clad Cookware
All-Clad has been producing top-performing cookware since 1971. Their popularity has grown since then, thanks to their premium-quality stainless steel products. Some key features of All-Clad cookware include:
Tri-ply construction: This design features a thick aluminum core sandwiched between two layers of stainless steel, ensuring even heating and durability.
Range of options: All-Clad offers a variety of product lines to suit different budgets and preferences, such as Copper Core, D3, and D5.
Dishwasher safe: Most All-Clad cookware is dishwasher safe, making cleanup easy and convenient. Oven and broiler safe: You can safely use these cookware products in the oven or under the broiler, up to 600°F.
Advantages of All-Clad:
High-quality American-made materials
Various core medians ranging from aluminum, copper, and stainless steel up to a complete five-ply design
An extensive range of products available
Responsibly sourced materials used for an eco-friendly choice
Excellent heat distribution
Disadvantages of All-Clad:
Expensive compared to other cookware sets
Stainless steel color might not suit everyone's preference
Heavy to handle
360 Cookware
Cookware is relatively new in the market, but it has revolutionized the cooking experience for many customers. The brand utilizes waterless cooking techniques to create durable cookware sets that focus on healthier cooking options. Some key features of 360 Cookware include:
Vapor Technology: This unique cooking method allows for waterless and greaseless cooking, locking in nutrients and essential flavors to create delicious dishes.
High-quality construction: 360 Cookware uses T-304 stainless steel material with a .110 gauge thickness for excellent heat conduction and durability.
Induction compatible: All 360 Cookware products are induction-ready and can be used on all other types of stovetops as well.
Hand-crafted in the USA: Ensuring quality craftsmanship and reliable products.
Advantages of 360 Cookware:
Made with eco-friendly materials and manufacturing processes
Vapor Technology (waterless cooking), maintains the flavor and nutrition of the food
Fewer chances of material leaching
Easy cleaning and maintenance
A smooth polished surface prevents food from sticking
Disadvantages of 360 Cookware:
Limited product range and size options
High cost of cladded stainless steel
Consumes energy due to vapor cooking (if not adequately sealed)
Decoding the Core: all clad vs 360 cookware
Cookware sets consist of layers that play the essential role of absorbing and distributing heat. These layers are referred to as ply. All-Clad offers tri-ply, the bonded cookware collection – D3 having three layers, the D5 line having five layers, and the Copper Core range with five layers (including a copper layer for improved conductivity). On the other hand, 360 Cookware offers a standard seven-ply series.
Compatibility with Cooktops: all clad vs 360 cookware
Most All Clad and 360 Cookware products are compatible with different cooktops, including gas, electric, ceramic, and induction. Be sure to double-check compatibility before purchasing if you have a unique cooktop.
Budget Matters: Which One is Less Costly?
All-Clad and 360 Cookware are both considered luxury cookware sets. The former's prices are attached to their high-quality production methods and their extensive product range. Simultaneously, 360 Cookware products are costly due to their incorporation of eco-friendly techniques and cladded stainless steel.
Choosing the Right Brand for You
Selecting between All-Clad and 360 Cookware will most likely come down to personal preferences, budgets, and the importance of features. While All-Clad is known for quality in terms of construction, heat distribution, and range, you might opt for 360 Cookware if you prefer eco-friendliness or a pure waterless cooking experience.
Ultimately, both brands offer high-end, durable cookware options. Factors such as appearance, price range, and weight may be tipping points for your decision. Choose what you think will best meet your cooking needs and enhance your overall kitchen experience.
All clad vs 360 Cookware PROS AND CONS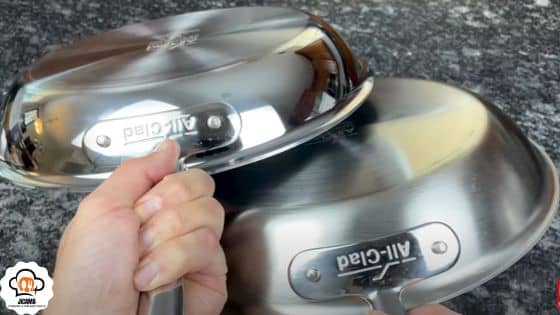 All-Clad Cookware
PROS
High-quality materials and construction.
Wide product range.
Excellent heat distribution.
American-made and eco-friendly choices.
CONS
Expensive.
Stainless steel color might not be suitable for some preferences.
Heavyweight.
360 Cookware
PROS
Eco-friendly materials and manufacturing.
Waterless cooking preserves food's flavor and nutrition.
Less chance of material leaching.
Easy cleaning and maintenance.
Non-stick surface.
CONS
Limited product range and size options.
High cost of cladded stainless steel.
Energy consumption with vapor cooking (if not properly sealed).
Conclusion
The choice between All-Clad and 360 Cookware largely depends on your priorities, budget, and specific needs. If the highest quality materials, construction, and variety are important to you, then All-Clad might be the better option. However, if eco-friendliness, waterless cooking techniques, and ease of cleaning are more crucial, then 360 Cookware could be a better fit.
At the end of all clad vs 360 cookware, both All-Clad and 360 Cookware are excellent investments for your kitchen. Take your time to analyze the features, pros, and cons of each brand to make an informed decision that you'll be satisfied with for years to come.